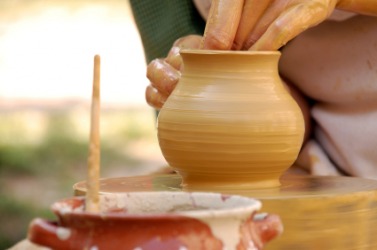 A piece of pottery being formed out of clay.
noun
The definition of clay is fine-grained soil or water-soaked earth.

An example of clay is a soft blob of water-soaked earth or fine grain soil that you use when wet and pliable to sculpt a vase, which is then fired under high heat and becomes hard.
---
clay
a firm, fine-grained earth, plastic when wet, composed chiefly of hydrous aluminum silicate minerals: it is produced by the chemical decomposition of rocks or the deposit of fine rock particles in water and is used in the manufacture of bricks, pottery, and other ceramics
soil composed of mineral particles of very small size

Origin of clay

as in Gen. 2:7 earth, esp. as a symbol of the material of the human body
the human body
Origin of clay
Middle English
clei
from Old English
clæg
from Indo-European base an unverified form
glei-,
to stick together from source clammy, German
klei,
mud, Classical Latin
glus,
glue
Clay
1777-1852; U.S. statesman & orator
---
clay
noun
a. A fine-grained, firm earthy material that is plastic when wet and hardens when heated, consisting primarily of hydrated silicates of aluminum and widely used in making bricks, tiles, and pottery.

b. A hardening or nonhardening material having a consistency similar to clay and used for modeling.

Geology A sedimentary material with grains smaller than 0.002 millimeter in diameter.
Moist sticky earth; mud.
The human body as opposed to the spirit.
Origin of clay
Middle English
clei
from
Old English
clæg
Related Forms:
clay′ey clay′ish

adjective
---
clay

Noun
(usually uncountable, plural clays)
A mineral substance made up of small crystals of silica and alumina, that is ductile when moist; the material of pre-fired ceramics.
An earth material with ductile qualities.
(tennis) A tennis court surface.

The French Open is played on clay.

(biblical) The material of the human body.
(firearms, informal) a clay pigeon
Verb
(third-person singular simple present clays, present participle claying, simple past and past participle clayed)
To add clay to, to spread clay onto.
(of sugar) To purify using clay.
Origin
From Middle English clay, cley, from Old English clǣġ ("clay"), from Proto-Germanic *klajjaz ("clay"), from Proto-Indo-European *gley- ("to glue, paste, stick together"). Cognate with Dutch klei ("clay"), Low German klei ("clay"), German Klei, Danish klæg ("clay"); compare Ancient Greek γλία (glía), Latin glūs ("glue"), Ukrainian ґлей (glej, "clay"). Related also to clag, clog.
Origin
From a Middle English occupational name for a clay worker, or a habitational name, from Old English clǣġ ("clay").
---