loam

loam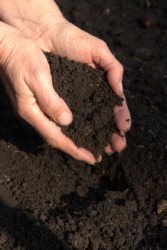 A handful of loam.
noun
The definition of loam is rich soil with clay, organic matter and sand.

An example of loam is a rich dark soil used for planting.
verb
Loam is defined as to add rich soil to dirt.

An example of loam is to add rich soil over existing dirt to prepare a yard for planting a lawn.
---
loam
a rich soil composed of clay, sand, and some organic matter
a mixture of moistened clay, sand, and some organic matter, as straw, used in plastering, making foundry molds, etc.

popularly

any rich, dark soil
Origin of loam
Middle English
lome
from Old English
lam
: see lime
to fill or cover with loam
---
loam
noun
Soil composed of a mixture of sand, clay, silt, and organic matter.
A mixture of moist clay and sand, and often straw, used especially in making bricks and foundry molds.
transitive verb
loamed, loam·ing, loams
To fill, cover, or coat with loam.
Origin of loam
Middle English
lam, lom
clay
from
Old English
lām
; see
lei-
in Indo-European roots.
Related Forms:
---
loam

Noun
(uncountable)
A kind of soil; an earthy mixture of clay and sand, with organic matter to which its fertility is chiefly due.
Verb
(third-person singular simple present loams, present participle loaming, simple past and past participle loamed)
To cover, smear, or fill with loam.
Part or all of this entry has been imported from the 1913 edition of Webster's Dictionary, which is now free of copyright and hence in the public domain. The imported definitions may be significantly out of date, and any more recent senses may be completely missing.
Origin
From Old English lām.
---