poultice

poul·tice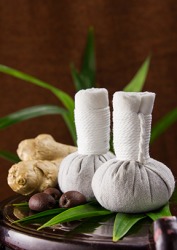 Spa herbal poultice
noun
The definition of a poultice is a medical dressing or is a soft, moist mass of natural materials that you put on your body and keep in place with a cloth to try to reduce soreness or inflammation.

A mix of aloe and vitamins with a cloth over it applied to a sunburn to soothe the sunburn is an example of a poultice.
---
poultice
a hot, soft, moist mass, as of flour, herbs, mustard, etc., sometimes spread on cloth, applied to a sore or inflamed part of the body
Origin of poultice
earlier
pultes
from ML, thick pap, origin, originally plural of Classical Latin
puls:
see pulse
transitive verb
-·ticed

,

-·tic·ing
to apply a poultice to
---
poultice
noun
A soft moist mass of bread, meal, clay, or other adhesive substance, usually heated, spread on cloth, and applied to warm, moisten, or stimulate an aching or inflamed part of the body. Also called cataplasm .
transitive verb
poul·ticed, poul·tic·ing, poul·tic·es
To apply a poultice to.
Origin of poultice
Middle English
pultes
from
Medieval Latin
pultēs
thick paste
from
Latin
pl. of
puls
pult-
pottage
; see
pulse
2
.
---
poultice

Verb
(third-person singular simple present poultices, present participle poulticing, simple past and past participle poulticed)
To treat with a poultice.
Origin
From an alteration of Middle English pultes, from Latin pultes, plural of puls.
---