pulse

pulse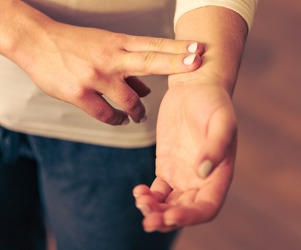 A woman taking her pulse on her wrist.
noun
The definition of a pulse is a rhythmic beating in the arteries caused by the beating of the heart.

An example of a pulse is the throbbing beat heard at the wrist.
---
pulse
the regular beating in the arteries, caused by the contractions of the heart
any beat, signal, vibration, etc. that is regular or rhythmical
the perceptible underlying feelings of the public or of a particular group
a variation, characterized by a rise, limited duration, and decline, of a quantity whose value normally is constant; specif.,

Elec.

a brief surge of voltage or current

Radio

a very short burst of electromagnetic waves
Origin of pulse
Middle English
pous
from Old French from Classical Latin
pulsus
(
venarum
), beating (of the veins) from
pulsus
, past participle of
pellere
, to beat: see felt
intransitive verb
pulsed

,

puls′ing
to pulsate; throb
to cause to pulsate
to drive (an engine, etc.) by pulses

Elec.

to apply pulses to

Radio

to modify (an electromagnetic wave) by means of pulses
the edible seeds of peas, beans, lentils, and similar plants having pods
any leguminous plant
Origin of pulse
Middle English
pous
from Old French
pouls
from Classical Latin
puls
(gen.
pultis
), a pottage made of meal or pulse, probably from Classical Greek
poltos
from Indo-European base an unverified form
pel-
, dust, meal from source Classical Latin
pollen
,
pulvis
---
pulse
noun
The rhythmical throbbing of arteries produced by the regular contractions of the heart, especially as palpated at the wrist or in the neck.

a. A regular or rhythmical beating.

b. A single beat or throb.

Physics

a. A brief sudden change in a normally constant quantity: a pulse of current; a pulse of radiation.

b. Any of a series of intermittent occurrences characterized by a brief sudden change in a quantity.

The perceptible emotions or sentiments of a group of people: "a man who had … his finger on the pulse of America" ( Thomas P. O'Neill, Jr. )
verb
pulsed, puls·ing, puls·es
verb
intransitive
To pulsate; beat: "The nation pulsed with music and proclamation, with rages and moral pretensions" ( Lance Morrow )
Physics To undergo a series of intermittent occurrences characterized by brief, sudden changes in a quantity.
verb
transitive
To chop in short bursts, as in a food processor: The cook pulsed the leeks and added some coriander.
Origin of pulse
Middle English
pous, puls
from
Old French
pous, pulz
from
Latin
pulsus
from past participle of
pellere
to beat
; see
pel-
5
in Indo-European roots.
noun
The edible seeds of certain pod-bearing plants, such as lentils and chickpeas.
A plant yielding these seeds.
Origin of pulse
Middle English
pols, puls
from
Latin
puls
pottage of meal and pulse
probably ultimately from
Greek
poltos
---
pulse

Noun
(plural pulses)
Any annual legume yielding from 1 to 12 grains or seeds of variable size, shape and colour within a pod, and used as food for humans or animals.
(physiology) A normally regular beat felt when arteries are depressed, caused by the pumping action of the heart.
(music) The beat or tactus of a piece of music.
An autosoliton.
Verb
(third-person singular simple present pulses, present participle pulsing, simple past and past participle pulsed)
to beat, to throb, to flash.

In the dead of night, all was still but the pulsing light.

to flow, particularly of blood.

Hot blood pulses through my veins.

to emit in discrete quantities
Origin
From Latin pulsus ("beat"), from pellere ("to drive"), from Proto-Indo-European *pel ("to drive, strike, thrust").
For spelling, the -e (on -lse) is so the end is pronounced /ls/, rather than /lz/ as in pulls, and does not change the vowel ('u'). Compare else, false, convulse.
---
pulse - Computer Definition

A brief, temporary change in a quantity or value from its normal or initial level for a period of time, and then a decay of that value back to the original level. Purely digital systems that do not rely on the modulation of an underlying carrier fit this definition.Telegraphy, for example, relies on the making and breaking of an electrical current so that the normal or initial level is a current off (no current) condition and the pulse is either a short or long current on (yes current) condition (dot or dash, respectively), separated by a short current off (no current) condition (space). Similarly, digital fiber optic transmission systems (FOTS) operate on the basis of light on (1 bit) and light off (0 bit).
---
A short duration of current flow. The current rises and falls sharply, but not instantaneously. See wave.
---