silt

silt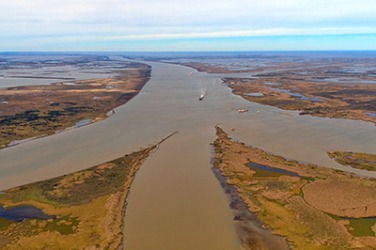 The Mississippi River Delta contains a large amount of silt.
noun
Silt is a material of the earth made up of particles that are somewhere in between the sizes of sand and clay, often found at the bottom of rivers and bays.

An example of silt is what one may find at the bottom of a harbor that eventually will clog the waterway.
verb
Silt is defined as to fill something up with particles of the earth that are somewhere in between sand and clay in size.

An example of to silt is to fill up the bottom of a slow moving river with sediment.
---
silt
sediment suspended in stagnant water or carried by moving water, that often accumulates on the bottom of rivers, bays, etc., esp. such sediment with particles smaller than sand and larger than clay
soil composed of 80 percent or more silt and less than 12 percent clay
Origin of silt
Middle English
cylte
, probably from Scand, as in Norwegian and Danish dialect, dialectal
sylt
, salt marsh, akin to Old High German
sulza
, brine: for Indo-European base see salt
to fill, cover, or choke up with silt
---
silt
noun
A sedimentary material consisting of very fine particles intermediate in size between sand and clay.
verb
silt·ed, silt·ing, silts
verb
intransitive
To become filled with silt: an old channel that silted up.
verb
transitive
To fill, cover, or obstruct with silt: River sediments gradually silted the harbor.
Origin of silt
Middle English
sylt
probably of Scandinavian origin
; see
sal-
in Indo-European roots.
Related Forms:
---
silt

Noun
(countable and uncountable, plural silts)
Mud or fine earth deposited from running or standing water.
Material with similar physical characteristics, whatever its origins or transport.
Verb
(third-person singular simple present silts, present participle silting, simple past and past participle silted)
To clog or fill with silt.
(intransitive) To become clogged with silt.
Origin
From Middle English cylte, cognate with Norwegian and Danish sylt ("salt marsh") and Old English sealt ("salt")
---