verb
To deface is defined as to spoil the appearance, mar or disfigure.

When you draw graffiti over a beautiful piece of art, this is an example of when you deface the art.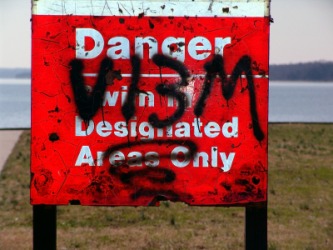 Someone has defaced this sign.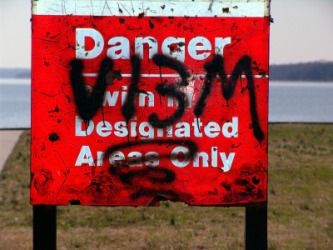 Someone has defaced this sign.
---
deface definition by Webster's New World
Webster's New World College Dictionary Copyright © 2010 by Wiley Publishing, Inc., Cleveland, Ohio. Used by arrangement with John Wiley & Sons, Inc.
---
deface definition by American Heritage Dictionary
transitive verb
de·faced
,
de·fac·ing
,
de·fac·es
To mar or spoil the appearance or surface of; disfigure.
To impair the usefulness, value, or influence of.
Obsolete To obliterate; destroy.
Origin: Middle English defacen, from Old French desfacier : des-, de- + face, face; see face.
Related Forms:
The American Heritage® Dictionary of the English Language, 4th edition Copyright © 2010 by Houghton Mifflin Harcourt Publishing Company. Published by Houghton Mifflin Harcourt Publishing Company. All rights reserved.
---
deface - Computer Definition
Generally means to mar or alter a Website in some undesirable way. Because most Web servers are vulnerable to being exploited, they are often compromised by crackers who replace the information on Web pages with other information to their liking.
One particular Website at http://www.attrition.org/mirror/attrition/ lists various sites that have been defaced—an item that they call "the defacement mirror." However, a note on this attrition Website currently says that what began as a rather tiny collection of Website defacement mirrors soon turned into a massive 24-hour-a-day, seven-day-a-week project. By 2001, says this note, a single day's mirroring included more than 100 defaced Websites—more than three times the total mirrored for 1995 and 1996. By May 2001, maintaining "the mirror" became a full-time, thankless chore, so the sponsors stopped the activity. Today's Website features what had been there as of May 21, 2001.