nettle

net·tle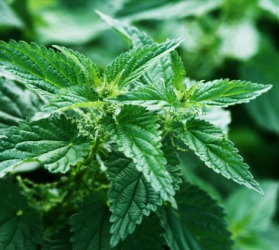 The stinging nettle plant.
noun
The definition of a nettle is a tall weed that has pointy hairs on the leaves and stems.

An example of a nettle is a stinging nettle.
verb
Nettle is defined as to sting, poke or annoy.

An example of to nettle is to continuously poke someone with a stick.
---
nettle
any of a genus (Urtica) of annual and perennial weeds of the nettle family with stinging hairs
any of various other stinging or spiny plants
Origin of nettle
Middle English
netle
from Old English
netele
, akin to German
nessel
from Indo-European base an unverified form
ned-
, to twist together from source net: from the use of such plants as a source of spinning fiber
designating a family (Urticaceae, order Urticales) of chiefly tropical, dicotyledonous plants covered typically with stinging hairs, including the ramie
transitive verb
-·tled

,

-·tling
to sting with or as with nettles
to irritate; annoy; vex
---
nettle
noun
Any of various plants of the genus Urtica, having toothed leaves, unisexual apetalous flowers, and stinging hairs that cause skin irritation on contact.
Any of various hairy, stinging, or prickly plants.
transitive verb
net·tled, net·tling, net·tles
To sting with or as if with a nettle.
To irritate; vex.
Origin of nettle
Middle English
from
Old English
netele
; see
ned-
in Indo-European roots.
nettle
stinging nettle
Urtica dioica
---
nettle

Noun
(plural nettles)
A herb of the genus Urtica, which is covered with stinging, mildly poisonous hairs, causing an instant rash.
The non-stinging plant deadnettle, in the mint family, Lamiaceae.
Loosely, anything which causes a similarly stinging rash, such as a jellyfish or sea-nettle.
Verb
(third-person singular simple present nettles, present participle nettling, simple past and past participle nettled)
(literally) Of the nettle plant and similar physical causes, to sting causing a rash in someone.

The children were badly nettled after playing in the field.
Origin
From Middle English, from Old English netle, netele, netel from Proto-Germanic *natilǭ (cogate with Old Saxon netila, Middle Dutch netele (modern netel), German Nessel, Middle Danish nædlæ "nettle"), a diminutive of *naton (of unknown origin, perhaps from the same source as net).
---