noun
The definition of a nettle is a tall weed that has pointy hairs on the leaves and stems.

An example of a nettle is a stinging nettle.
verb
Nettle is defined as to sting, poke or annoy.

An example of to nettle is to continuously poke someone with a stick.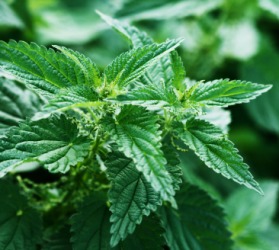 The stinging nettle plant.
---
nettle definition by Webster's New World
noun
any of a genus (Urtica) of annual and perennial weeds of the nettle family with stinging hairs
any of various other stinging or spiny plants
Origin: Middle English netle ; from Old English netele, akin to German nessel ; from Indo-European base an unverified form ned-, to twist together from source net: from the use of such plants as a source of spinning fiber
adjective
designating a family (Urticaceae, order Urticales) of chiefly tropical, dicotyledonous plants usually covered with stinging hairs, including the ramie
Webster's New World College Dictionary Copyright © 2010 by Wiley Publishing, Inc., Cleveland, Ohio. Used by arrangement with John Wiley & Sons, Inc.
---
nettle definition by American Heritage Dictionary
noun
Any of numerous plants of the genus Urtica, having toothed leaves, unisexual apetalous flowers, and stinging hairs that cause skin irritation on contact.
Any of various hairy, stinging, or prickly plants.
transitive verb
net·tled
,
net·tling
,
net·tles
To sting with or as if with a nettle.
To irritate; vex.
Origin: Middle English, from Old English netele; see ned- in Indo-European roots.