verb
The definition of amaze means to shock or surprise someone.

An example of the word amaze is when a man proposes to a woman unexpectedly.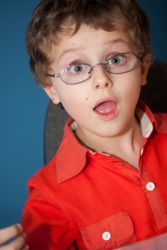 Something has amazed this little boy.
---
amaze definition by Webster's New World
transitive verb
amazed, amazing
to fill with great surprise or sudden wonder; astonish

Obsolete

to bewilder
Origin: Middle English (only in past participle amased) ; from Old English āmasian: ; from ā-, a- plush base akin to Norwegian masast, to fall asleep, Swedish mos, sluggish, sleepy
---
amaze definition by American Heritage Dictionary
verb
a·mazed
,
a·maz·ing
,
a·maz·es
verb
, transitive
To affect with great wonder; astonish. See Synonyms at surprise.
Obsolete To bewilder; perplex.
verb
, intransitive
To cause great wonder or astonishment: a sight that amazes.
noun
Amazement; wonder.
Origin: From Middle English masen, to bewilder, and from amased, bewildered (from Old English āmasod), both from Old English āmasian, to bewilder : ā-, intensive pref. + *masian, to confuse.
Related Forms: