paralysis

pa·ral·y·sis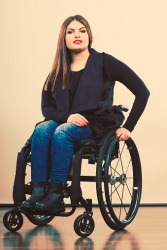 A woman who uses a wheelchair.
noun
Paralysis is a state of being unable to act or react, or the loss of motion or feeling in certain parts of your body.

When you are given shocking news about the death of your husband and you are unable to move or react, this is an example of paralysis.
When you sever your spinal cord and you can no longer move your legs or feel things below your waist, this is an example of paralysis.
---
paralysis
noun
pl.
-·ses·
partial or complete loss, or temporary interruption, of a function, esp. of voluntary motion or of sensation in some part or all of the body
any condition of helpless inactivity or of inability to act
Origin of paralysis
Classical Latin from Classical Greek
paralysis
from
paralyein,
to loosen, dissolve, or weaken at the side: see para- and lysis
---
paralysis
noun
pl.
pa·ral·y·ses,
a. Loss or impairment of the ability to move a body part, usually as a result of damage to its nerve supply.

b. Loss of sensation over a region of the body.

Inability to move or function; total stoppage or severe impairment of activity: fear that led to national paralysis.
Origin of paralysis
Latin
from
Greek
paralusis
from
paralūein
to disable, loosen
para-
on one side
; see
para-
1
.
lūein
to release
; see
leu-
in Indo-European roots.
---
paralysis

Noun
(plural paralyses)
(pathology) The complete loss of voluntary control of part of person's body, such as one or more limbs.
Origin
From Latin paralysis, from Ancient Greek παράλυσις (paralusis, "palsy"), from παραλύειν (paraluein, "to disable on one side"), from παρά (para, "beside") + λύειν (luein, "loosen").
---