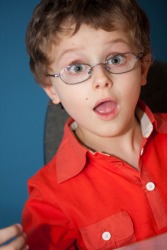 Something has amazed this little boy.
noun
The definition of amazement is the act of being in awe or being astonished.

An example of amazement is when a child witnesses a magician pulling a rabbit out of a hat.
---
amazement
an amazed condition; great wonder; astonishment

Obs.

bewilderment
---
amazement
noun
A state of extreme surprise or wonder; astonishment.
Obsolete Bewilderment; perplexity.
---
amazement

Noun
(countable and uncountable, plural amazements)
(uncountable) The condition of being amazed; overwhelming wonder, as from surprise, sudden fear, horror, or admiration; astonishment.
(countable, archaic) A particular feeling of wonder, surprise, fear, or horror.
(countable, dated) Something which amazes.
---