verb
The definition of amazed is a reaction or feeling of surprise, awe and astonishment.

An example of a time when someone might be feeling amazed is a child looking at presents on Christmas morning.
YourDictionary definition and usage example. Copyright © 2013 by LoveToKnow Corp.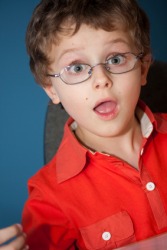 Something has amazed this little boy.
Licensed from iStockPhoto
---
amazed
Variant of amaze
transitive verb
amazed, amazing
to fill with great surprise or sudden wonder; astonish

Obsolete

to bewilder
Origin: Middle English (only inch(es) past participle amased) ; from Old English āmasian: ; from ā-, a- plush base akin to Norwegian masast, to fall asleep, Swedish mos, sluggish, sleepy