flabbergast
flab·ber·gast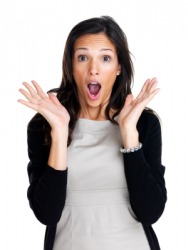 This woman is flabbergasted.
verb
To flabbergast is defined as to cause great surprise or amazement.

When you make a very surprising announcement that leaves all others stunned, this is an example of a situation where you flabbergast the listeners.
---
flabbergast
to make speechless with amazement; astonish
Origin of flabbergast
18th-c. slang from uncertain or unknown; perhaps flabby + aghast
---
flabbergast
transitive verb
flab·ber·gast·ed, flab·ber·gast·ing, flab·ber·gasts
To cause to be overcome with astonishment; astound. See Synonyms at
surprise
.
Origin of flabbergast
Origin unknown
---
flabbergast

Verb
(third-person singular simple present flabbergasts, present participle flabbergasting, simple past and past participle flabbergasted)
To overwhelm with bewilderment; to stun, confound or amaze, especially with ludicrous affect.  

He was flabbergasted to find that his work had been done for him before he began.
Her stupidity flabbergasts me, and I have to force myself to keep a straight face while she explains her beliefs.
I love to flabbergast the little-minded by shattering their preconceptions about my nationality and gender.
The oddity of the situation was so flabbergasting I couldn't react in time for anyone to see it.
Noun
(plural flabbergasts)
(uncountable) Overwhelming surprise, confusion or shock.

When I saw my house on fire, the flabbergast overcame me and I just stood and stared, too shocked to comprehend what I was seeing.
His flabbergast was so great he couldn't even come up with a plausible answer.

(countable) An awkward person.
Origin
Origin uncertain. Hotten says it is from Old English ; Whitney and Smith suggests flabby or flap (strike) + gast (astonish) ; The Imperial Dictionary connects it with flabber (related to flap, to strike) + the root of aghast, and notes that flabagast may have been the root (to strike aghast) ; first documented as slang in 1772; Cassell gives it as dialectical from Suffolk, from flap or flabby + aghast, possibly related to Scottish flabrigast (to boast) or flabrigastit (worn out with exertion) ; Smith relates it to flab (to quake) or flap (to make a flap over something) + Middle English agasten (to terrify), and relates it to aghast, ghastly and ghost
---