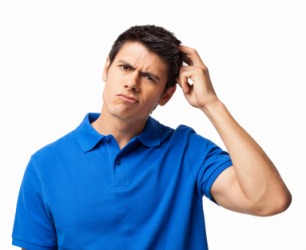 This man is bewildered.
verb
To bewilder is to cause someone to be confused by something complicated.

An example of bewilder is when you ask someone a complicated question that he cannot answer.
---
bewilder
to confuse hopelessly, as by something complicated or involved; befuddle; puzzle

Archaic

to cause to be lost, as in a wilderness
Origin of bewilder
be- + wilder
---
bewilder
transitive verb
be·wil·dered, be·wil·der·ing, be·wil·ders
To confuse or befuddle, especially by being complicated or varied. See Synonyms at perplex.
To cause to lose one's bearings; disorient: "The whirling snow bewildered him" ( May Kellogg Sullivan )
Related Forms:
---
bewilder

Verb
(third-person singular simple present bewilders, present participle bewildering, simple past and past participle bewildered)
To confuse, puzzle or befuddle someone, especially with many different things.

All the different possible options may bewilder us.

To disorientate someone.

Don't push me into that maze and bewilder me.
---