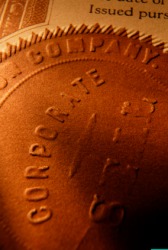 This seal has been impressed onto a certificate.
noun
The definition of impress is the act of leaving a memorable or physical mark.

An example of an impress is a stamped design on a piece of paper.
verb
To impress is defined as to strongly affect someone or something or to leave a physical mark on something by using pressure.

An example of impress is to show off excellent swimming skills to new learners.
An example of impress is to put a stamp on an envelope.
---
impress
to force (a person) into service, esp. into military or naval service
to levy, seize, or requisition (money, property, etc.), as for military use
Origin of impress
from in- + press
to use pressure on so as to leave a mark: to impress clay with a die
to mark by using pressure; stamp; imprint
to apply with pressure: to impress a die into clay

to have a marked effect on the mind or emotions of
to arouse the interest or approval of

to implant firmly in the mind or fix in the memory: with on or upon

Elec.

to apply (a voltage or current) to a circuit or device, as from a generator
Origin of impress
Middle English
impressen
from Classical Latin
impressus
, past participle of
imprimere
: see imprint
the act of impressing
any mark, imprint, etc. made by pressure; stamp; impression
a distinctive quality or effect produced by some strong influence
---
impress
transitive verb
im·pressed, im·press·ing, im·press·es
To affect strongly, often favorably: wrote down whatever impressed me during the journey; was impressed by the child's sincerity.
To produce or attempt to produce a vivid impression or image of: a scene that impressed itself on her memory; parents that impress the value of money on their children.
To mark or stamp with pressure: impressed the wax with a design.
To apply with pressure; press: impressed the stamp onto the wax.
noun
The act of impressing: a design left by impress of a seal.
A mark or pattern of influence produced by someone or something; an impression: a politician who left her impress on foreign policy.
A stamp or seal meant to be impressed.
Origin of impress
Middle English
impressen
to imprint
from
Old French
empresser
from
Latin
impressus
past participle of
imprimere
in-
in
; see
in-
2
.
premere
to press
; see
per-
4
in Indo-European roots.
transitive verb
im·pressed, im·press·ing, im·press·es
To compel (a person) to serve in the military, particularly in the naval forces, especially by seizure.
To seize (property) by force or authority, especially for military purposes; confiscate.
Law To impose a constructive trust or a lien upon property, as a matter of equity, to protect a person without legal title but with a legally recognized interest.
noun
Impressment.
Origin of impress
in-
2
press
2
(
influenced by
obsolete
imprest
advance on a soldier's pay
)
---
impress

---