noun
The definition of an imprint is a mark left by something that's been pressed into or stamped onto it, or the lasting effect or result of something.

An example of an imprint is someone becoming an overeater after having been starved.
verb
Imprint is defined as to press something to another and leave a mark.

An example of imprint is stamping your initials on a letter.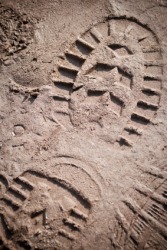 The imprint of a shoe in the mud.
---
imprint definition by Webster's New World
transitive verb
to mark by or as by pressing or stamping; impress: to imprint a paper with a seal
to make (a mark or impression) by pressing
to press or apply: to imprint a kiss on the forehead
to implant firmly in the mind or fix in the memory: with on: a sight imprinted forever on her memory
Origin: Middle English emprenten ; from Old French empreinter ; from empreinte, an imprint ; from past participle of empreindre ; from Classical Latin imprimere ; from in-, on plush premere, to press
noun
a mark made by imprinting
a lasting effect or characteristic result: the imprint of starvation

a note on a book's title page or its reverse or at the end of the book, giving the publisher's or printer's name, time and place of publication, etc.
the name of a publishing company
Webster's New World College Dictionary Copyright © 2010 by Wiley Publishing, Inc., Cleveland, Ohio. Used by arrangement with John Wiley & Sons, Inc.
---
imprint definition by American Heritage Dictionary
transitive verb
im·print·ed
,
im·print·ing
,
im·prints
To produce (a mark or pattern) on a surface by pressure.
To produce a mark on (a surface) by pressure.
To impart a strong or vivid impression of: "We imprint our own ideas onto acts" (Ellen Goodman).
To fix firmly, as in the mind: He tried to imprint the number on his memory.
To modify (a gene) by chemical means.
noun
A mark or pattern produced by imprinting. See Synonyms at impression.
A distinguishing influence or effect: Spanish architecture that shows the imprint of Islamic rule.
A publisher's name, often with the date, address, and edition, printed at the bottom of a title page of a publication.
Origin: Middle English emprenten, from Old French empreinter, from empreinte, impression, from feminine past participle of empreindre, to print, from Latin imprimere, to impress; see impress1.