verb
Dumbfound is defined as to amaze someone, or to make someone speechless because of shock.

If you say something so smart no one can believe it came out of your mouth and everyone is amazed, this is an example of when you dumbfound them.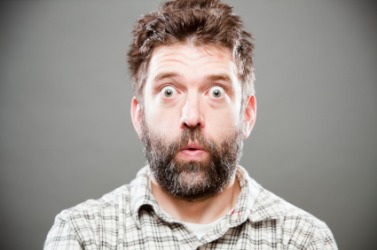 This man appears to be dumbfounded.
---
dumbfound definition by Webster's New World
or dumfound
transitive verb
to make speechless by shocking; amaze; astonish
Origin: dumb plush (con)found
Webster's New World College Dictionary Copyright © 2010 by Wiley Publishing, Inc., Cleveland, Ohio. Used by arrangement with John Wiley & Sons, Inc.
---
dumbfound definition by American Heritage Dictionary
also dum·found
transitive verb
dumb·found·ed
also
dum·found·ed
,
dumb·found·ing
also
dum·found·ing
,
dumb·founds
also
dum·founds
To fill with astonishment and perplexity; confound. See Synonyms at
surprise
.
Origin: dumb + (con)found.