verb
The definition of baffle is confuse.

An example of baffle is when a teacher confuses a student with a complicated math problem.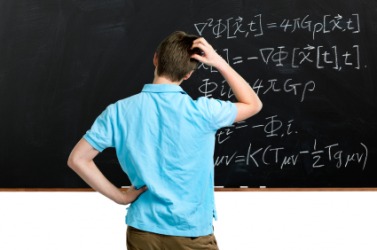 A math problem baffles a student.
---
baffle definition by Webster's New World
transitive verb
baffled, baffling
to confuse so as to keep from understanding or solving; puzzle; confound
to interfere with; hinder; impede
to check the interference of (low-frequency sound waves) in a radio, phonograph, etc. by the use of a baffle
Origin: 16th-c. Scot; probably respelling (as duff for dough, Affleck for Auchinleck) of obsolete bauchle
noun
Rare

a baffling or being baffled
an obstructing device, as a wall or screen to hold back or turn aside the flow of liquids, gases, etc.
a mounting or partition used to check the transmission of sound waves between the front and rear of the speaker of a radio, phonograph, etc.
Webster's New World College Dictionary Copyright © 2010 by Wiley Publishing, Inc., Cleveland, Ohio. Used by arrangement with John Wiley & Sons, Inc.
---
baffle definition by American Heritage Dictionary
transitive verb
baf·fled
,
baf·fling
,
baf·fles
To frustrate or check (a person) as by confusing or perplexing; stymie.
To impede the force or movement of.
noun
A usually static device that regulates the flow of a fluid or light.
A partition that prevents interference between sound waves in a loudspeaker.
Origin: Perhaps blend of Scottish Gaelic bauchle, to denounce, revile publicly, and French bafouer, to ridicule.
Related Forms: