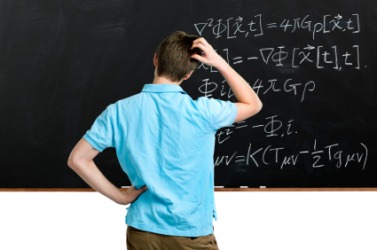 A math problem baffles a student.
verb
The definition of baffle is confuse.

An example of baffle is when a teacher confuses a student with a complicated math problem.
---
baffle
transitive verb
-·fled

,

-·fling
to confuse so as to keep from understanding or solving; puzzle; confound
to interfere with; hinder; impede
to check the interference of (low-frequency sound waves) in a radio, phonograph, etc. by the use of a baffle
Origin of baffle
16th-c. Scot; probably respelling (as
duff
for
dough, Affleck
for
Auchinleck
) of obsolete
bauchle
Rare

a baffling or being baffled
an obstructing device; specif.,

a wall or screen to hold back or turn aside the flow of liquids, gases, etc.
any of various devices designed to obstruct a rodent's access to a bird feeder

a mounting or partition used to check the transmission of sound waves between the front and rear of the speaker of a radio, phonograph, etc.
---
baffle
transitive verb
baf·fled, baf·fling, baf·fles
To confuse or perplex, especially so as to frustrate or prevent from taking action: a patient whose condition baffled the physicians.
To impede the force or movement of (a fluid).
noun
A usually static device that regulates the flow of a fluid or light.
A partition that prevents interference between sound waves in a loudspeaker.
Origin of baffle
Perhaps blend of
Scottish Gaelic
bauchle
to denounce, revile publicly,
French
bafouer
to ridicule
Related Forms:
---
baffle

Verb
(third-person singular simple present baffles, present participle baffling, simple past and past participle baffled)
To bewilder completely; to confuse or perplex. [from 17th c.]

I am baffled by the contradictions and omissions in the instructions.

(intransitive) To struggle in vain. [from 19th c.]

A ship baffles with the winds.
Noun
(plural baffles)
A device used to dampen the effects of such things as sound, light, or fluid. Specifically, a baffle is a surface which is placed inside an open area to inhibit direct motion from one part to another, without preventing motion altogether.

Tanker trucks use baffles to keep the liquids inside from sloshing around.

An architectural feature designed to confuse enemies or make them vulnerable.
---