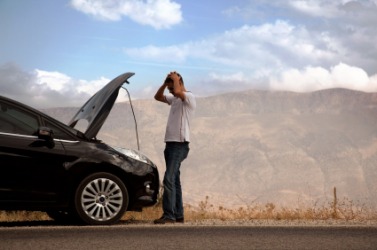 This mans car has had a breakdown.
noun
The definition of a breakdown is a mechanical failure, a collapse of a system of authority, a failure of a relationship or interaction, or a collapse of someone's mental health and a descent into permanent or temporary craziness.

When your car stops working and will no longer start, this is an example of a breakdown.
When everyone loses respect for a teacher and stops listening to that teacher at all, this is an example of a breakdown of authority.
When you tell your spouse to meet you at the restaurant you both like the best and he thinks that you mean a different restaurant and doesn't understand you correctly, this is an example of a breakdown of communication.
When your boyfriend breaks up with you and you become severely depressed and try to kill yourself and need therapy, this is an example of a breakdown.
---
breakdown
an act, instance, or result of breaking down; specif.,

a failure to work or function properly: breakdown of a machine, of authority, etc.
a failure of health; physical, mental, or emotional collapse
decomposition
a separation into parts; analysis

a lively, shuffling American country dance
---
breakdown
noun
a. The act or process of failing to function or continue.

b. The condition resulting from this: a breakdown in communication.

Electricity The abrupt failure of an insulator or insulating medium to restrict the flow of current.
A typically sudden collapse in physical or mental health.
An analysis, an outline, or a summary consisting of itemized data or essentials.
Disintegration or decomposition into parts or elements.

a. A noisy, energetic American country dance.

b. The music for this dance.

A popular dance originating in the early 1970s, performed to funk music.
---
breakdown

Noun
(plural breakdowns)
A failure, particularly mechanical; something that has failed

We saw a breakdown by the side of the road.

A physical collapse or lapse of mental stability

After so much stress, he suffered a breakdown and simply gave up.

Listing, division or categorization in great detail

Looking at the breakdown of the budget, I see a few items we could cut.

(chemistry) Breaking of chemical bonds within a compound to produce simpler compounds or elements.
A musical technique, by where the music is stripped down, becoming simpler, and can vary in heaviness depending on the genre.
(sports) A loss of organization (of the parts of a system).
(US, dated) A noisy, rapid, shuffling dance engaged in competitively by a number of persons or pairs in succession, as among the blacks of the southern United States.
(US, dated) Any crude, noisy dance performed by shuffling the feet, usually by one person at a time.
---