chassis
[c̸has′ē, s̸has′ē]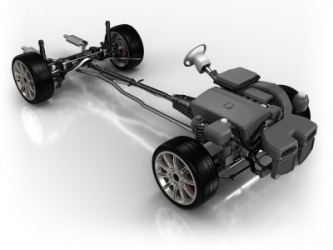 A car chassis.
noun
The definition of a chassis is the structural framework or base framework of a car, computer, radio, or piece of audio equipment.

The metal frame that a car is built around is an example of the chassis.
---
chassis
noun
pl.
chassis
a frame on which the carriage of a cannon moves back and forth
the part of a motor vehicle that includes the engine, the frame, suspension system, wheels, steering mechanism, etc., but not the body
landing gear

Electronics

the metal frame on which the parts of an electronic device together with the circuits connecting them are mounted
the assembled frame and parts

☆

Slang

the body or figure, esp. of a woman
Origin of chassis
French
châssis
: see chase
---
chassis
noun
pl.
chas·sis
The rectangular, usually steel frame, supported on springs and attached to the axles, that holds the body and motor of an automotive vehicle.
The landing gear of an aircraft, including the wheels, skids, floats, and other structures that support the aircraft on land or water.
The frame on which a gun carriage moves forward and backward.
The framework to which the components of a radio, television, or other electronic devices are attached.
Origin of chassis
French
châssis
,
frame
, from Old French, from Vulgar Latin
*capsīcium
, from Latin
capsa
,
box
.
---
chassis
Noun
(plural chassis)
A base frame, or movable railway, along which the carriage of a mounted gun moves backward and forward.
The base frame of a motor vehicle.
A frame or housing containing electrical or mechanical equipment, such as on a computer.
---
chassis - Computer Definition
Pronounced "chah-see," it is a physical structure that holds everything or that everything is attached to. A computer's cabinet is often called the chassis.
---
chassis
Variant of chassis
noun
pl.
chassis
a frame on which the carriage of a cannon moves back and forth
the part of a motor vehicle that includes the engine, the frame, suspension system, wheels, steering mechanism, etc., but not the body
landing gear

Electronics

the metal frame on which the parts of an electronic device together with the circuits connecting them are mounted
the assembled frame and parts

☆

Slang

the body or figure, esp. of a woman
Origin of chassis
French
châssis
: see chase