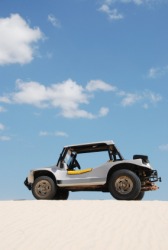 A dune buggy on the beach.
---
dune buggy
☆
a small, light automobile generally made from a standard, compact, rear-engine chassis and a prefabricated body, often made of fiberglass
Origin of dune buggy
so called because origin, originally equipped with wide, low-pressure tires for driving on sand dunes
---
dune buggy
noun
A recreational vehicle having oversize tires designed for use on sand dunes or beaches, especially a light vehicle with a modified engine mounted on an open chassis. Also called beach buggy.
---
dune buggy
---