noun
The definition of a canteen is a place where food is provided in a military camp, college or other organization, or a small container for holding drinking liquids.

A cafeteria in college where all the kids go to eat is an example of a canteen.
A small water bottle that you take camping with you so you will have a drink on your hike is an example of a canteen.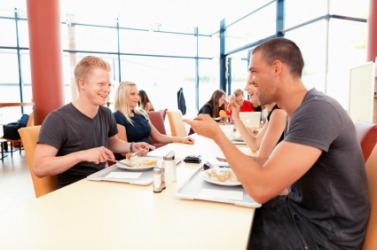 Students eating in the school canteen.
---
canteen definition by Webster's New World
noun
Post Exchange
a place outside a military camp where refreshments and entertainment are provided for members of the armed forces

a place where refreshments can be obtained, as by employees or visitors
such a place serving as a social center, as for teenagers

a place where cooked food is dispensed to people in distress, as in a disaster area
a small metal or plastic flask, usually encased in canvas, for carrying drinking water
a military kit formerly used to carry cooking equipment
Origin: French cantine ; from Italian cantina, wine cellar, vault ; from uncertain or unknown; perhaps canto, corner: see cant
Webster's New World College Dictionary Copyright © 2010 by Wiley Publishing, Inc., Cleveland, Ohio. Used by arrangement with John Wiley & Sons, Inc.
---
canteen definition by American Heritage Dictionary
noun
a. A snack bar or small cafeteria, as on a military installation.

b. A recreational facility, bar, or small general store formerly established for the patronage of soldiers.

A recreation hall or social club where refreshments are available.
A temporary or mobile eating place, especially one set up in an emergency.
A flask for carrying drinking water, as on a hike.

a. A box with compartments for carrying cooking gear and eating utensils.

b. A soldier's mess kit.

Chiefly British A box used to store silverware.
Origin: French cantine, from Italian cantina, wine cellar.