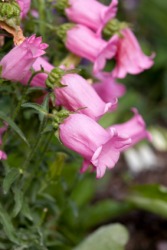 Pink Canterbury bells in a garden.
---
Canterbury bells
a cultivated bellflower (Campanula medium) with white, pink, or blue cuplike flowers
---
Canterbury bells
plural noun
(used with a sing. or pl. verb)
A European biennial herb (Campanula medium) widely cultivated for its showy, bell-shaped, blue, pink, or white flowers.
Origin of Canterbury bells
From the association of the flowers with the bells on the horses of Canterbury pilgrims
.
---
Canterbury bells
---