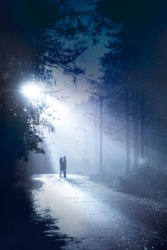 Moonlight shimmers through the trees.
noun
The definition of an unsteady light or reflection is an example of a shimmer.

A reflection of sunlight dancing on the water and presenting a weak light is an example of a shimmer.
verb
To shimmer is to shine softly or with a wavering, unsteady glow.

When moonlight filters down softly through the trees, this is an example of shimmer.
---
shimmer
to shine with an unsteady light; glimmer
to form a wavering image, as by reflection from waves of water or heat
Origin of shimmer
Middle English
schimeren
from Old English
scymrian
, frequentative formation on base of
scima
, ray, light from Indo-European base an unverified form
sk?i-
from source shine
a shimmering light; glimmer
---
shimmer
intransitive verb
shim·mered, shim·mer·ing, shim·mers
To shine with a subdued flickering light: Fireflies shimmered in the night sky.
To be reflected as a subdued, flickering light: The moon shimmered on the pond's surface.
noun
A flickering or tremulous light; a glimmer.
Origin of shimmer
Middle English
shimeren
from
Old English
scimerian
Related Forms:
---
shimmer

Verb
(third-person singular simple present shimmers, present participle shimmering, simple past and past participle shimmered)
Noun
(plural shimmers)
A faint or veiled and tremulous gleam or shining; a glimmer.
Origin
Old English scymrian or Old Norse skimi.
---