degradation

deg·ra·da·tion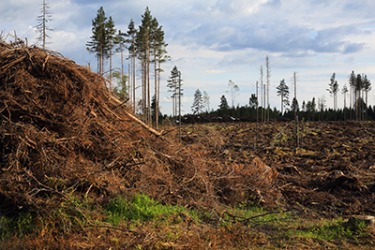 The degradation of the once pristine forest has had a negative impact o the wildlife in that area.
noun
Degradation is defined as the state of being lowered down in respect, status or condition.

When a person has become disrespected and is looked down upon, this is an example of degradation.
---
degradation
a degrading or being degraded in rank, status, or condition
a degraded condition

Geol.

the lowering of land surfaces by erosion

R.C.Ch.

laicization of a cleric, imposed as a penalty
Origin of degradation
French
dégradation
from Late Latin
degradatio
from
degradare
: see degrade
---
degradation
noun
The act or process of degrading.
The state of being degraded; degeneration.
A decline to a lower condition, quality, or level.
Geology A general lowering of the earth's surface by erosion or weathering.
Chemistry Decomposition of a compound, especially complex substances such as polymers and proteins, by stages, exhibiting well-defined intermediate products.
Related Forms:
---
degradation

Noun
(plural degradations)
The act of reducing in rank, character, or reputation, or of abasing; a lowering from one's standing or rank in office or society; diminution; as, the degradation of a peer, a knight, a general, or a bishop.
The state of being reduced in rank, character, or reputation; baseness; moral, physical, or intellectual degeneracy; disgrace; abasement; debasement.
Diminution or reduction of strength, efficacy, or value; degeneration; deterioration.
(geology) A gradual wearing down or wasting, as of rocks and banks, by the action of water, frost etc.
A deleterious change in the chemical structure, physical properties or appearance of a material from natural or artificial exposure.
The state or condition of a species or group which exhibits degraded forms; degeneration.
Arrest of development, or degeneration of any organ, or of the body as a whole.
The gradual breakdown of components of a material, as a result of a natural element, i.e.: heat, cold and wind.
Origin
From French dégradation
---