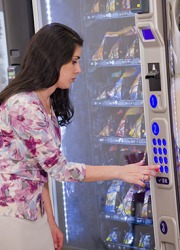 Serena purchased a bag of potato chips from the vending machine to satisfy her afternoon craving for a salty snack.
verb
To satisfy is defined as to fulfill a need, desire or requirement.

An example of to satisfy is to eat enough food to get rid of hungry feelings.
---
satisfy
transitive verb
-·fied·

,

-·fy·ing
to fulfill the needs, expectations, wishes, or desires of (someone); content; gratify
to fulfill or answer the requirements or conditions of (something)
to comply with (rules, standards, or obligations)

to free from doubt or anxiety; convince
to answer (a doubt, objection, etc.) adequately or convincingly; solve

to give what is due to
to discharge (an obligation, debt, etc.); settle in full

to make reparation to or for
Origin of satisfy
Middle English
satisfyen
from Old French
satisfier
from Classical Latin
satisfacere
from
satis
, enough (see sad) +
facere
, to make (see do)
to be satisfying, adequate, sufficient, etc.
---
satisfy
verb
sat·is·fied, sat·is·fy·ing, sat·is·fies
verb
transitive
To fulfill the need, desire, or expectation of: Were you satisfied with the hotel's service?
To fulfill (a need or desire): The cold drink satisfied my thirst.

a. To free from doubt or question; convince: His explanation satisfied the authorities.

b. To provide sufficient explanation to dispel or answer (a doubt or question).

To meet or be sufficient for (a requirement); conform to the requirements of (a standard, for example): Only two people satisfied the researcher's profile for the study.

a. To discharge (a debt or obligation, for example) in full.

b. To discharge an obligation to (a creditor).

c. To make reparation for; redress.

Mathematics To make the left and right sides of (an equation) equal after substituting equivalent quantities for the unknown variables.
verb
intransitive
To be sufficient or adequate.
To give satisfaction.
Origin of satisfy
Middle English
satisfien
from
Old French
satisfier
from
Latin
satisfacere
satis
sufficient
; see
sā-
in Indo-European roots.
facere
to make
; see
dhē-
in Indo-European roots.
Related Forms:
---
satisfy

Verb
(third-person singular simple present satisfies, present participle satisfying, simple past and past participle satisfied)
To do enough for; to meet the needs of; to fulfill the wishes or requirements of.

I'm not satisfied with the quality of the food here.

To cause (a sentence) to be true when the sentence is interpreted in one's universe.

The complex numbers satisfy .

(dated, literary) To convince by ascertaining; to free from doubt.
To pay to the extent of what is claimed or due.

to satisfy a creditor

To answer or discharge (a claim, debt, legal demand, etc.); to give compensation for.

to satisfy a claim or an execution
Origin
From Latin satisfacere, present active infinitive of satisfaciō, from satis ("enough, sufficient") + faciō ("make, do")
---