verb
To disembark is defined as a person or cargo to get off of a boat, aircraft or other form of transportation.

When you get off of a plane, this is an example of a time when you disembark.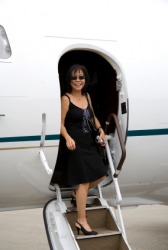 A woman disembarks a plane.
---
disembark definition by Webster's New World
transitive verb
to unload (passengers or goods) from a ship, aircraft, etc.
Origin: French désembarquer: see dis- and amp; embark
intransitive verb
to go ashore from a ship or leave an aircraft or other means of transportation
Webster's New World College Dictionary Copyright © 2010 by Wiley Publishing, Inc., Cleveland, Ohio. Used by arrangement with John Wiley & Sons, Inc.
---
disembark definition by American Heritage Dictionary
verb
dis·em·barked
,
dis·em·bark·ing
,
dis·em·barks
verb
, intransitive
To go ashore from a ship.
To leave a vehicle or aircraft.
verb
, transitive
To take ashore from a ship.
Origin: Probably obsolete French desembarquer : des-, dis- + embarquer, to embark; see embark.
Related Forms: