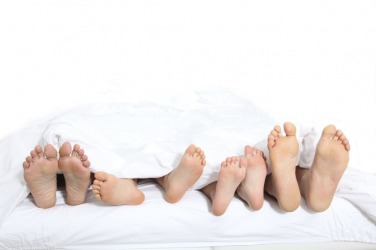 A family of feet.
noun
Feet is defined as the part of the body that touches the ground or multiples of 12 inches.

An example of feet is what goes in socks.
An example of feet is 36 inches.
---
feet
feet of clay
a weakness or defect of character (in an otherwise strong person)
get one's feet wet
to have or get one's first experience in some activity or pursuit
have one's feet on the ground
to be practical, realistic, etc.
on one's feet
in a standing position
firmly established
in a sound or recovered condition
alert(ly)
without preparation; extemporaneously
sit at the feet of
to be an admiring disciple of
stand on one's own (two) feet
sweep someone off his feet
to inspire strong and immediate enthusiasm, love, etc. in someone
---
feet
---
feet
---
feet
Variant of foot
noun
pl.
feet
the end part of the leg, on which a person or animal stands or moves
a thing like a foot in some way; specif.,

the part that a thing stands on; base
the lowest part; bottom: the foot of a page
the last of a series: go to the foot of the line
the part of a sewing machine that holds the cloth steady
the part of the body of a mollusk that is normally muscular and ventrally located, used for attachment, burrowing, and locomotion, or, as in cephalopods, serving as the basis for the arms, tentacles, eyes, and mouth

the end of a bed, grave, etc. toward which the feet are directed
the end opposite to the end designated the head: at the foot of the table
the part of a stocking, boot, etc. that covers the foot
a unit of length in the FPS system, equal to 12 inches or yard (0.3048 meter): symbol, ′: abbrev. ft: pl. sometimes following a number [50 foot of lumber] and always in attributive use [a six-foot athlete]

Brit.

foot soldiers; infantry
pl. foots the sediment in a liquid: usually used in pl.
a group of syllables serving as a unit of meter in verse; esp., such a unit having a specified placement of the stressed syllable or syllables
Origin of foot
Middle English
fot
; from Old English akin to German
fuss
; from Indo-European an unverified form
pōd-
, variant, variety of base an unverified form
pēd-
, foot, to go from source Sanskrit
pad-
, Classical Greek
pous
, Classical Latin
pes
intransitive verb
to dance
to go on foot: now rare exc. in phr. : see below

to move ahead, esp. with speed: said of a sailboat
transitive verb
to walk, dance, or run on, over, or through; tread
to make or repair the foot of (a stocking, etc.)
to add (a column of figures) and set down a total: often with up
☆

Informal

to pay (costs, expenses, etc.): to foot the bill
foot it
Informal
to dance, walk, or run
of foot
in walking or running: swift of foot
on foot
walking or running
going on; in process
on the wrong foot
in an inept or unfavorable way at the very beginning
put one's best foot forward
Informal
to do the best that one can
to try to appear at one's best
put one's foot down
Informal
to be firm; act decisively
under foot
on the surface of the ground; on the floor, etc.
in the way