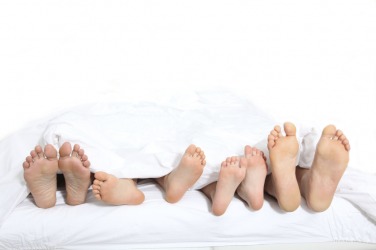 A family of feet.
noun
Feet is defined as the part of the body that touches the ground or multiples of 12 inches.

An example of feet is what goes in socks.
An example of feet is 36 inches.
---
feet
feet of clay
a weakness or defect of character (in an otherwise strong person)
Origin of feet
in allusion to the feet of the idol in Nebuchadnezzar's dream: see Daniel (Bible) 2:33
get one's feet wet
to have or get one's first experience in some activity or pursuit
have one's feet on the ground
to be practical, realistic, etc.
on one's feet
in a standing position
firmly established
in a sound or recovered condition
alert(ly)
without preparation; readily or extemporaneously: an able attorney can think on her feet
put one's feet up
to relax; specif., to assume a relaxing position as with a footrest or on a recliner
sit at the feet of
to be an admiring disciple of
stand on one's own (two) feet
sweep someone off his feet
to inspire strong and immediate enthusiasm, love, etc. in someone
---
feet
---
feet

---