busy
[biz′ē]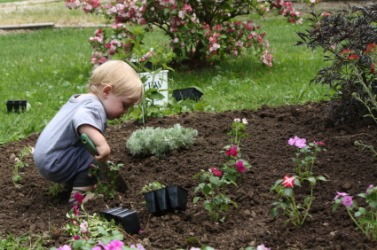 A toddler busy in the garden.
adjective
The definition of busy is being occupied with tasks or being crowded and full of activity.

An example of busy is an executive with 10 meetings in a day.
An example of busy is when you fill your time with gardening.
An example of busy is when a restaurant has every table full.
---
busy
adjective
busier, busiest
occupied in some activity; at work; not idle
full of activity; characterized by much action or motion

in use at the moment, as a telephone line
indicating such use: the busy signal

meddlesome
having so much detail, variety of color, etc. as to create a confusing, displeasing effect
Origin of busy
Middle English
busi
; from Old English
bisig,
occupied, diligent; akin to Dutch
bezig
: seen only in Low German and amp; eastern; English
---
busy
adjective
bus·i·er
,
bus·i·est
Engaged in activity, as work; occupied. See Synonyms at active.
Characterized by or sustaining much activity: a busy morning; a busy street.
Being a busybody; meddlesome; prying.
Being in use, as a telephone line.
Cluttered with detail to the point of being distracting: a busy design.
transitive verb
bus·ied
,
bus·y·ing
,
bus·ies
To make busy; occupy: busied myself preparing my tax return.
Origin of busy
Middle English
bisi, busi
, from Old English
bysig
.
Related Forms:
---
busy
Adjective
(comparative busier, superlative busiest)
Crowded with business or activities; having a great deal going on.

a busy street

Engaged in another activity or by someone else.

The director cannot see you now, he's busy.
Her telephone has been busy all day.
She is too busy to have time for riddles.

Having a lot going on; complicated or intricate.

Flowers, stripes, and checks in the same fabric make for a busy pattern.

Officious; meddling.
Verb
(third-person singular simple present busies, present participle busying, simple past and past participle busied)
To make somebody busy, to keep busy with, to occupy, to make occupied.
To rush somebody.
Origin
From Middle English busi, besy, bisi, from Old English bysiġ, *biesiġ, bisiġ ("busy, occupied, diligent"). Cognate with Dutch bezig ("busy"), Low German besig ("busy"), Old Frisian bisgia ("to use"), Old English bisgian ("to occupy, employ, trouble, afflict").
---
busy - Computer Definition
The condition that exists when a central office (CO), PBX, destination telephone circuit, or other voice telecommunications component is in use at its full capacity and not available to accept additional calls. If a caller attempts to place a call to a device that is in a busy condition, the device returns a busy signal in the backward direction. For a telephone, busy is the same as off hook. See also busy signal.
---