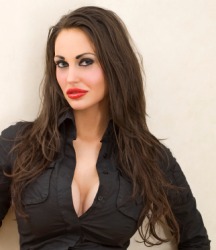 This woman could be described as busty.
adjective
The definition of busty is a woman with large breasts.

An example of someone busty is the movie character Jessica Rabbit.
---
busty
---
busty
adjective
bust·i·er
,
bust·i·est
Large-breasted.
---
busty
Adjective
(comparative bustier, superlative bustiest)
Having large breasts

Cor blimey guv'nor, there's a busty blonde yonder!
---