noun
The definition of a jail is a place where people are held for trail, or where people who've been convicted of a crime serve out a sentence.

An example of a jail is San Quentin Prison.
verb
Jail is defined as to put someone into a place that they can't get out of.

An example of jail is to put someone in a holding cell after they've committed a crime.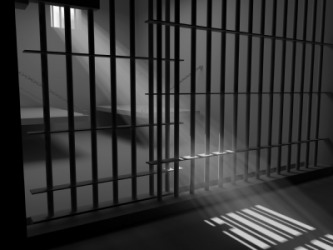 An empty jail cell.
---
jail definition by Webster's New World
noun
a building for the confinement of people who are awaiting trial or who have been convicted of minor offenses
imprisonment
Origin: Middle English jaile, gaile ; from Old French jaole, gaole, a cage, prison ; from Late Latin caveola, diminutive of Classical Latin cavea, cage
transitive verb
to put or keep in or as in jail
Webster's New World College Dictionary Copyright © 2010 by Wiley Publishing, Inc., Cleveland, Ohio. Used by arrangement with John Wiley & Sons, Inc.
---
jail definition by American Heritage Dictionary
noun
A place for the confinement of persons in lawful detention, especially persons awaiting trial under local jurisdiction.
Detention in a jail.
transitive verb
jailed
,
jail·ing
,
jails
To detain in or as if in a jail.
Origin: From Middle English jaiole (from Old French) and from Middle English gaiol, gaol (from Old North French gaiole), both from Vulgar Latin *gaviola, from Latin *caveola, diminutive of cavea, cage, hollow.
The American Heritage® Dictionary of the English Language, 4th edition Copyright © 2010 by Houghton Mifflin Harcourt Publishing Company. Published by Houghton Mifflin Harcourt Publishing Company. All rights reserved.
---
jail - Legal Definition
n
A confinement facility whose inmates are individuals awaiting trial or convicted of lesser offenses.