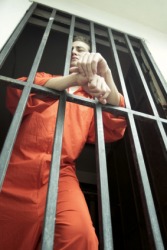 A jailbird.
noun
The definition of a jailbird is a criminal who has been in jail or prison, especially someone who has repeatedly been in prison.

Someone who is in and out of jail is an example of a jailbird.
---
jailbird
a prisoner or former prisoner in a jail
a person often put in jail; habitual lawbreaker
---
jailbird
noun
Informal
A prisoner or an ex-convict.
---
jailbird

Noun
(plural jailbirds)
A prisoner or an ex-prisoner
---