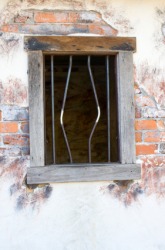 These bent bars are evidence there may have been a jailbreak.
noun
The definition of jailbreak is an escape from jail.

When a prisoner is able to escape his cell, this is an example of a jailbreak.
verb
Jailbreak is defined as to modify the restraints or restrictions on a piece of technology so it does things the manufacturer did not intend it to do.

When you use a special program to unlock your iPhone so you can install whatever you want on it even if it wasn't meant to be installed, this is an example of a time you jailbreak your iPhone.
---
jailbreak
a breaking out of jail by force
---
jailbreak
---
jailbreak

Verb
(third-person singular simple present jailbreaks, present participle jailbreaking, simple past jailbroke, past participle jailbroken)
To escape from prison.
To modify the firmware of an electronic device, especially a mobile phone, in order to remove restrictions that prevent it from running unofficial software.
Usage notes
The inflected forms of jailbreak are very rare for the sense "escape from prison".
---
jailbreak - Computer Definition

---
---