penitentiary

pen·i·ten·tia·ry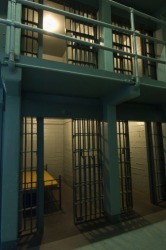 Interior of a prison.
adjective
The definition of penitentiary is punishable by imprisonment, or used for punishment or disciplining.

An example of penitentiary used as an adjective is in the phrase "penitentiary ruling," which means a ruling sending someone to prison for punishment.
noun
Penitentiary is defined as a prison, or a tribunal in the Roman Catholic Church.

An example of a penitentiary is a federal prison.
An example of a penitentiary is a judgment session overseen by a cardinal that deals with questions of conscience.
---
penitentiary
of or for penance
used in punishing, disciplining, and reforming
making one liable to imprisonment in a penitentiary
of or in a penitentiary
Origin of penitentiary
Medieval Latin
penitentiarius, poenitentiarius
(form and meaning influenced, influence by associated, association with Classical Latin
poena:
see penal) from Classical Latin
paenitentia
from
paenitens,
penitent
noun
pl.
-·ries
Origin of penitentiary

ML penitentiaria < the adj.

a prison
a state or federal prison for persons convicted of serious crimes

Origin of penitentiary

ML(Ec) penitentiarius < the adj. an office or tribunal headed by a cardinal (

Grand Penitentiary

) and dealing with matters of penance, confession, dispensation, absolution, etc.
---
penitentiary
noun
pl.
pen·i·ten·tia·ries
A prison for those convicted of major crimes.
Roman Catholic Church

a. A tribunal of the Roman Curia having jurisdiction in matters relating to penance, dispensations, and papal absolutions.

b. A priest whose special function is the administration of the sacrament of penance in a particular church or diocese.
adjective
Of or for the purpose of penance; penitential.
Relating to or used for punishment or reform of criminals or wrongdoers.
Resulting in or punishable by imprisonment in a penitentiary: a penitentiary offense.
Origin of penitentiary
Middle English
penitenciarie
penance officer, episcopal prison
from
Medieval Latin
pēnitentiāria
feminine of
pēnitentiārius
from
Latin
paenitentia
penitence
from
paenitēns
penitent
; see
penitent
.
---
penitentiary

Origin
From Medieval Latin penitentiaria ("place of penitence"), term used by the Quakers in Pennsylvania during the 1790s, describing a place for penitents to dwell upon their sins.
---
penitentiary - Legal Definition
n
A penal institution that is intended for long-term confinement of convicted criminals. See also
jail
.
---