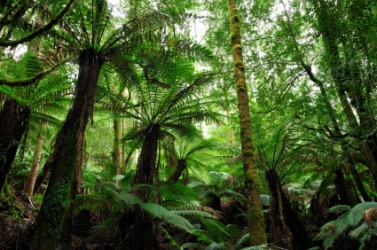 The lush vegetation of a rainforest.
noun
Vegetation is defined as growing plants, or a life without physical, mental or social activity.

All the plants in the rain forest are an example of vegetation.
A person who is brain dead is an example of someone who lives in a state of vegetation.
---
vegetation
the act or process of vegetating
plant life in general; specif., the flora of a specified region
a dull, passive, unthinking existence

Med.

any abnormal outgrowth on a part of the body
Origin of vegetation
Medieval Latin
vegetatio,
growth from LL, an enlivening: see vegetate
---
vegetation
noun
The plants of an area or a region; plant life: hills sparsely covered with vegetation.
The act or process of vegetating.
Medicine An abnormal growth on a body part.
Related Forms:
veg′e·ta′tion·al

adjective
---
vegetation

Noun
(countable and uncountable, plural vegetations)
(uncountable) Plants, taken collectively.

There were large amounts of vegetation in the forest.

The act or process of vegetating, or growing as a plant does; vegetable growth.
---