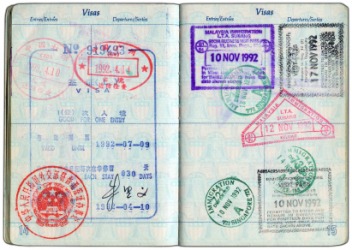 Many visas stamped on a passport.
noun
The definition of a visa is a mark on a passport to show that a person can enter a country.

An example of a visa is a mark placed on a passport allowing a person from Germany to enter and temporarily visit in the United States.
verb
Visa is defined as to give a passport mark allowing one to enter a country.

An example of visa is to give the authorization for an Italian citizen to enter the United States for travel.
---
visa
an endorsement on a passport, showing that a person has been granted official entry into or passage through a country
Origin of visa
French from Classical Latin feminine of
visus
, past participle of
videre
, to see: see vision
transitive verb
-·saed

,

-·sa·ing
to put a visa on (a passport)
to give a visa to (someone)
---
visa
noun
An official authorization appended to a passport, permitting entry into and travel within a particular country or region subject to certain conditions, such as length of time and purpose of the visit.
transitive verb
vi·saed, vi·sa·ing, vi·sas
To endorse or ratify (a passport).
To give a visa to.
Origin of visa
French
short for
Latin
(carta) vīsa
(the document has been) seen
from feminine past participle of
vidēre
to see
; see
weid-
in Indo-European roots.
---
visa

Proper noun
a credit card company
Noun
(plural Visas)
Visa card
---
visa - Computer Definition
---