drowsy

drows·y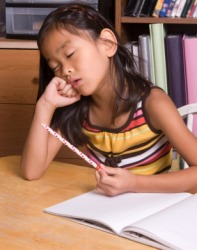 A drowsy child.
adjective
The definition of drowsy is a feeling of being sleepy, tired or not fully awake.

When you are just about to fall asleep and are having a hard time keeping your eyes open, this is an example of a time when you are drowsy.
---
drowsy
adjective
-·i·er

,

-·i·est
sleepy or half asleep; lethargic
making drowsy; soporific

brought on by sleepiness
peacefully quiet or inactive: a drowsy village
---
drowsy
adjective
drows·i·er, drows·i·est
Dull with sleepiness; sluggish.
Produced or characterized by sleepiness.
Inducing sleepiness; soporific.
Related Forms:
---
drowsy

Adjective
(comparative drowsier, superlative drowsiest)
Inclined to drowse; heavy with sleepiness; lethargic; dozy.

I was feeling drowsy and so decided to make a cup of coffee to try to wake myself up.
Origin
Probably from or akin to Old English drūsian.
---