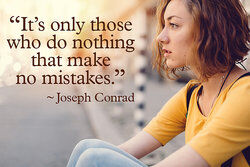 It can often be a challenge to find just the right words for certain occasions. Whether you need something soothing to say at a time of sorrow or are looking for some tender words to share with someone you love, there are endless encouraging words for every occasion. Choose from our selection of sayings for whenever you're feeling lost for words.
Inspirational Words and Quotes
The following quotes can be used to motivate and lift up tired spirits. If someone close to you is feeling down about work or life, consider one of the following quotes to help elevate their mood:
If God is for us, who is against us? (Romans 8:31)
It's only those who do nothing that make no mistakes. (Joseph Conrad, An Outcast of the Islands)
We may encounter many defeats, but we must not be defeated. (Maya Angelou, interview with Psychology Today)
We must let go of the life we had planned so as to have the life that is waiting for us. (Joseph Campbell, Reflections on the Art of Living)
You gain strength, courage and confidence by every experience in which you really stop to look fear in the face. (Eleanor Roosevelt, You Learn By Living)
Need more help inspiring yourself, or giving energy to the special people in your life? We have collected encouraging words for soldiers and for co-workers, as well as quotes about life, inspirational quotes for any occasion and a slideshow of thoughts to cure a bad day.
Encouraging Words of Sympathy
It can be hard to find the right words that will give comfort to someone during a time of grief. Sometimes, a warm, caring quote or saying can express what you can't. The following are ideal to offer sympathy:
Blessed are those who mourn, for they will be comforted. (Matthew 5:4)
May there be comfort in knowing that someone so special will never be forgotten. (Julie Hebert)
Those we love do not go away. They walk beside us every day. (Anonymous)
Perhaps they are not stars, but rather openings in Heaven where the love of our lost ones pours through and shines down upon us to let us know they are happy. (Eskimo proverb)
What we have once enjoyed we can never lose…All that we love deeply becomes a part of us. (Helen Keller, The Open Door)
For more specific situations, we've gathered uplifting words of encouragement suited for life's toughest times. Take a look at our comforting words before surgery, our words of support for a friend with cancer, and words to share at the time of death. We also provide condolence examples and words for funerals, as well as encouraging words for all occasions when a friend or loved one is struggling.
Encouraging Love and Friendship Sayings
You can often show a friend or loved one that you will be there for them just by using some heartwarming words. The following sayings do just that:
This is my commandment, that you love one another as I have loved you. No one has greater love than this, to lay down one's life for one's friends. (John 15:12-13)
If I had a single flower for every time I think of you, I could walk forever in my garden. (Claudia Adrienne Grandi)
And when Love speaks, the voice of all the gods makes heaven drowsy with the harmony. (William Shakespeare, Love's Labour's Lost)
Let us always meet each other with smile, for the smile is the beginning of love. (Mother Teresa)
Wherever you are and whatever you do, be in love. (Jalaluddin Rumi)
Seeking the right words for love? Aren't we all? YourDictionary can help you express love with words, as well as encourage a loved one or just provide a few very sweet love quotes.
Encouraging Words for Kids
Children thrive on encouraging words from their parents and teachers. If you are struggling to find just the right words to boost a child's mood or confidence, a famous quote or brief verse can be the solution. The following positive words are ideal to encourage kids:
Winning doesn't always mean being first. Winning means you're doing better than you've done before. (Bonnie Blair, Score Your Goal)
You have brains in your head. You have feet in your shoes. You can steer yourself any direction you choose. (Dr. Seuss, Oh! The Places You'll Go)
All our dreams can come true if we have the courage to pursue them. (Walt Disney)
The time is always right to do what is right. (Martin Luther King, Jr.)
Anything can happen, child, anything can be. (Shel Silverstein, Listen to the Mustn'ts)
For more wisdom pitched just right for kids, have a look at our words for a 13th birthday, plus our collections of quotes by great children's authors like Robert Louis Stevenson and Lewis Carroll.
When you need the perfect words of encouragement for a certain occasion, but nothing comes to you, using a famous quote or a verse from a holy book can be ideal. These words can be spoken or written in a card to let the recipient know how much you care.