adjective
The definition of listless is someone who is lacking in energy or vitality and does not extend physical effort.

An example of someone who would be described as listless is a depressed person who lays around all day.
YourDictionary definition and usage example. Copyright © 2013 by LoveToKnow Corp.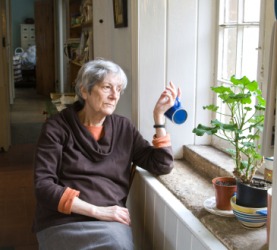 A woman feeling listless.
Licensed from iStockPhoto
---
adjective
having no interest in what is going on about one, as a result of illness, weariness, dejection, etc.; spiritless; languid
characterized by such a feeling
Origin: list plush -less
Webster's New World College Dictionary
Copyright © 2010 by Wiley Publishing, Inc., Cleveland, Ohio.
Used by arrangement with John Wiley & Sons, Inc.
---
adjective
Lacking energy or disinclined to exert effort; lethargic: reacted to the latest crisis with listless resignation.
Origin: Middle English listles : probably from liste, desire (from listen, to desire; see list5) + -les, -lesse, -less.
Related Forms:
The American Heritage® Dictionary of the English Language
, 4th edition Copyright © 2010 by Houghton Mifflin Harcourt Publishing Company. Published by Houghton Mifflin Harcourt Publishing Company. All rights reserved.