adjective
The definition of sedentary is someone or something that doesn't move much.

An example of sedentary is a person who sits on the couch all day and never exercises.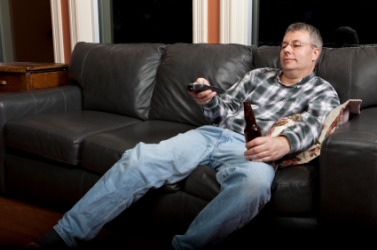 This man is sedentary.
---
sedentary definition by Webster's New World
adjective
of or marked by much sitting about and little travel
keeping one seated much of the time: a sedentary job

remaining in one locality; not migratory: said of birds, etc.
fixed to one spot, as a barnacle
Origin: French sédentaire ; from Classical Latin sedentarius ; from sedens, present participle of sedere, to sit
Webster's New World College Dictionary Copyright © 2010 by Wiley Publishing, Inc., Cleveland, Ohio. Used by arrangement with John Wiley & Sons, Inc.
---
sedentary definition by American Heritage Dictionary
adjective
Characterized by or requiring much sitting: a sedentary job.
Accustomed to sitting or to taking little exercise.
Remaining or living in one area, as certain birds; not migratory.
Attached to a surface and not moving freely, as a barnacle.
Origin: French sédentaire, from Old French, from Latin sedentārius, from sedēns, sedent-, present participle of sedēre, to sit; see sed- in Indo-European roots.
Related Forms: