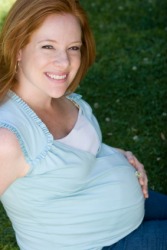 A radiant pregnant woman.
adjective
The definition of radiant is glowing, bright and sending out rays.

An example of radiant is the beam on a woman's face when she finds out she is having a baby.
An example of radiant is heat that comes from one source and spreads out to warm a wider area.
---
radiant
sending out rays of light; shining brightly
filled with light; bright: a radiant morning
showing pleasure, love, well-being, vitality, etc.; beaming: a radiant smile
issuing (from a source) in or as in rays; radiated: radiant energy
Origin of radiant
Classical Latin
radians,
present participle of
radiare:
see radiate
the point or object from which heat or light emanates

Astron.

the point on the celestial sphere from which a shower of meteors appears to come
---
radiant
adjective
Emitting heat or light: a radiant star.
Consisting of or emitted as radiation: radiant heat.
Filled with light shining especially as rays; brightly shining: a radiant morning. See Synonyms at bright.

a. Showing or expressing vitality or joy: radiant eyes; a radiant smile.

b. Splendid; glorious: radiant beauty; a radiant future.
noun
An object or point from which light or heat rays are emitted.
Astronomy The apparent celestial origin of a meteoric shower.
Origin of radiant
Middle English
from
Latin
radiāns
radiant-
present participle of
radiāre
to radiate
; see
radiate
.
Related Forms:
---
radiant

Adjective
(comparative more radiant, superlative most radiant)
Emitting or proceeding as if from a center.
(botany) Having a ray-like appearance, like the large marginal flowers of certain umbelliferous plants; said also of the cluster which has such marginal flowers.
Noun
(plural radiants)
A point source from which radiation is emitted.
---