pole

Pole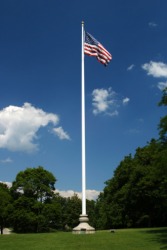 U.S.A. flag on a flag pole.
noun
A pole is defined as a long piece of wood, metal or other material.

An example of a pole is what a United States flag hangs from in front of a fire department.

Pole means a person from or living in Poland.

An example of Pole is someone born in Warsaw.

The definition of a pole is either end of a dividing line through a sphere, or the opposing ends of two forces.

An example of a pole is Antarctica.
An example of a pole is the negative terminal on a car battery.
---
pole
a long, slender piece of wood, metal, etc., usually rounded: a tent pole, flagpole, fishing pole
a tapering wooden shaft extending from the front axle of a wagon or carriage and attached by chains or straps to the collars of a span of horses
a unit of measure, equal to one rod in linear measure (5.029 m) or one square rod in square measure (25.29 sq m)
an assigned starting position at a racetrack, in the front row if there is more than one row and in the innermost lane
Origin of pole
Middle English from Old English
pal
from Classical Latin
palus
, pale
transitive verb
intransitive verb
poled

,

pol′ing
to push along (a boat or raft) with a pole
to manipulate, impel, support, etc. with or as with a pole
under bare poles
with all sails furled because of high winds
either end of any axis, as of the earth, of the celestial sphere, or of a mitotic spindle during cell division
the region around the North Pole or that around the South Pole
either of two opposed or differentiated forces, parts, or principles, such as the ends of a magnet, the terminals of a battery, motor, or dynamo, or two extremes of opinion

Embryology

either of the two differentiated regions in the early embryo of many animals; specif., the

animal pole

containing little yolk and the

vegetal pole

containing most of the yolk

Math.

a point or points with characteristic properties, as the point of origin of polar coordinates
Origin of pole
Middle English from Classical Latin
polus
, pole of the heavens, heavens from Classical Greek
polos
, axis of the sphere, firmament from
pelein
, to be in motion from Indo-European base an unverified form
kwel-
, to turn from source wheel
poles apart
widely separated; having opposite natures, opinions, etc.; at opposite extremes
Pole
a person born or living in Poland
Pole
1500-58; Eng. cardinal: last Rom. Catholic archbishop of Canterbury (1556-58)
---
pole
noun
Either extremity of an axis through a sphere.
Either of the regions contiguous to the extremities of the earth's rotational axis, the North Pole or the South Pole.
Physics See magnetic pole.
Electricity Either of two oppositely charged terminals, as in an electric cell or battery.
Astronomy See celestial pole.
Biology

a. Either extremity of the main axis of a nucleus, cell, or organism.

b. Either end of the spindle formed in a cell during mitosis.

c. The point on a nerve cell where a process originates.

Either of two antithetical ideas, propensities, forces, or positions.
A fixed point of reference.
Mathematics

a. The origin in a polar coordinate system; the vertex of a polar angle.

b. A point in the complex plane at which a given function is not defined.
Origin of pole
Middle English
from
Old French
from
Latin
polus
from
Greek
polos
axis, sky
; see
kwel-
1
in Indo-European roots.
noun
A long, relatively slender, generally rounded piece of wood or other material.
The long tapering wooden shaft extending up from the front axle of a vehicle to the collars of the animals drawing it; a tongue.

b. A unit of area equal to a square rod.

Sports The inside position on the starting line of a racetrack: qualified in the time trials to start on the pole.
verb
poled, pol·ing, poles
verb
transitive
a. To propel with a pole: boatmen poling barges up a placid river.

b. To propel (oneself) or make (one's way) by the use of ski poles: "We ski through the glades on corn snow, then pole our way over a long one-hour runout to a road" ( Frederick Selby )

To support (plants) with a pole.
To strike, poke, or stir with a pole.
verb
intransitive
To propel a boat or raft with a pole.
To use ski poles to maintain or gain speed.
Origin of pole
Middle English
from
Old English
pāl
from
Latin
pālus
stake
; see
pag-
in Indo-European roots.
Pole
noun
A native or inhabitant of Poland.
A person of Polish ancestry.
---
pole

---
pole - Computer Definition

A long, slender, tapering shaft of wood, metal, or concrete with a round cross-section that is planted in the ground and stands vertically, and to which cables, antennas, transformers, and other devices can be secured for support of applications including telecommunications and television transmission, and electrical power distribution and transmission.
Either of two points at which opposing or differentiated forces are concentrated, such as the ends of a magnet or the terminals of a battery, motor, or dynamo.
---