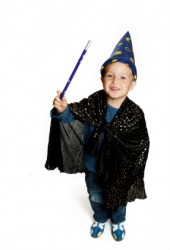 A little wizard with his wand.
Licensed from iStockPhoto
---
noun
a slender, supple switch or shoot, as of a young tree
a rod or staff carried as a symbol of authority; scepter
a rod regarded as having magical powers, as one used by a magician or fairy
any of various rod-shaped usually hand-held devices, attachments, etc.; specif.,

an applicator for cosmetics
an electronic sensor for reading bar codes

☆

Archery

a slat 6 feet high and 2 inches wide, used as a target at a distance of 100 yards for men and 60 yards for women
Origin: Middle English from Old Norse vǫndr, akin to Gothic wandus from Indo-European base an unverified form wendh- from source wind
Webster's New World College Dictionary
Copyright © 2010 by Wiley Publishing, Inc., Cleveland, Ohio.
Used by arrangement with John Wiley & Sons, Inc.
---
noun
A thin supple rod, twig, or stick.
A slender rod carried as a symbol of office in a procession; a scepter.
Music A conductor's baton.
A stick or baton used by a magician, conjurer, or diviner.
A pipelike attachment that lengthens the handle of a device or tool: a vacuum cleaner that has two extension wands.
A hand-held electronic device, often shaped like a rod, that is used for security purposes to detect metal.
Sports A six-foot by two-foot slat used as an archery target.
Origin: Middle English, from Old Norse vndr.
The American Heritage® Dictionary of the English Language
, 4th edition Copyright © 2010 by Houghton Mifflin Harcourt Publishing Company. Published by Houghton Mifflin Harcourt Publishing Company. All rights reserved.
---
wand - Computer Definition
A handheld optical reader used to read typewritten fonts, printed fonts, OCR fonts and bar codes. The wand is waved over each line of characters or codes in a single pass.
Computer Desktop Encyclopedia
THIS DEFINITION IS FOR PERSONAL USE ONLY
All other reproduction is strictly prohibited without permission from the publisher.
© 1981-2014 The Computer Language Company Inc. All rights reserved.