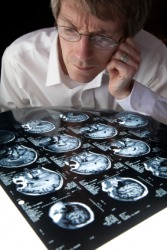 A man scans MRI brain scans.
noun
The definition of a scan is an act of looking at carefully or quickly or of transmitting an image or text to a computer.

An example of a scan is a quick glance through a magazine.
verb
Scan is defined as to closely and quickly look at something, to use an electronic device to copy an image or text into a digital file, or to analyze verse into metrical verse.

An example of to scan is to thoroughly search a document for errors.
An example of to scan is to copy pictures onto a computer.
An example of to scan is to put a poem into metrical verse.
---
scan
transitive verb
scanned

,

scan′ning
to analyze (verse) in terms of its rhythmic components, as by counting accents and syllables and marking the metrical feet
to look at closely or in a broad, searching way; scrutinize
to glance at quickly; consider hastily
to examine, identify, or interpret (printed characters, video images, bar codes, etc.): said of an electronic device

Comput.

to examine (items in a file) in sequence in order to find those that meet a particular criterion

Electronics

to traverse (a region) with a succession of transmitted radar beams, usually radiated in a systematic pattern

Radiology

to examine the structure or condition of (an internal bodily organ) with ultrasound, tomography, etc.

TV

to traverse (a surface) rapidly and point by point with a beam of light or electrons in transmitting or reproducing the lights and shades of an image
Origin of scan
Middle English
scannen
from Classical Latin
scandere
, to climb, mount (in LL, to scan): see descend
to scan verse
to conform to metrical principles: said of poetry
the act or an instance of scanning
scope of vision
Scan
---
scan
verb
scanned, scan·ning, scans
verb
transitive
a. To look at carefully or thoroughly, especially in search of something; examine: The sailor scanned the horizon for signs of land.

b. To look over quickly or read hastily: I scanned the newspaper while eating breakfast.

Computers To search (stored data) automatically for specific data.

a. To direct a finely focused beam of light or electrons in a systematic pattern over (a surface) in order to reproduce or sense and subsequently transmit an image.

b. To direct a radar beam in a systematic pattern across (a sector of sky) in search of a target.

To encode (text, for example) in digital format by means of an optical scanner.

a. Medicine To direct x-rays or other energy at (a body or body part) in order to produce an image, as with a CT scanner.

b. To pass (luggage, for example) through a detector at a security checkpoint in order to detect weapons or banned materials.

To analyze (verse) into metrical patterns.
verb
intransitive
To analyze verse into metrical patterns.
To conform to a metrical pattern: Does this line scan?
noun
The act or an instance of scanning: my scan of the files.
Medicine

a. The action or process of scanning a body or body part.

b. An image produced by scanning.
Origin of scan
Middle English
scanden, scannen
to scan a verse
from
Latin
scandere
to climb, scan a verse
; see
skand-
in Indo-European roots.
Related Forms:
---
scan

Verb
(third-person singular simple present scans, present participle scanning, simple past and past participle scanned)
To examine sequentially, part by part.
To look about for.

He scanned the horizon.
Noun
(plural scans)
An instance of scanning.

The operators vacated the room during the scan.

The result or output of a scanning process.

The doctors looked at the scans and made a diagnosis.
Origin
From Middle English scannen, for *scanden < Old French escandir ("to climb, scan"), from Latin scandō ("I climb").
---
scan - Computer Definition
(1) To make an electronic comparison of a signal, pixel or data structure as described in the following definitions.
(2) In optical technologies, to read a printed form a line at a time in order to convert images into bitmapped representations or convert characters into text. See OCR.
(3) In video, to move across a picture frame a line at a time, either to detect the image in an analog or digital camera, or to refresh a CRT display.
(4) To search a data file sequentially for specific content.
(5) To search an executable file for a particular pattern. See antivirus program.
(6) To sequentially search for peripheral devices attached to the computer.
---