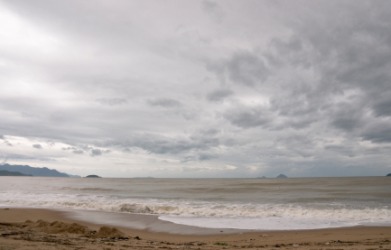 A cloudy day at the beach.
---
cloudy definition by Webster's New World
Webster's New World College Dictionary Copyright © 2010 by Wiley Publishing, Inc., Cleveland, Ohio. Used by arrangement with John Wiley & Sons, Inc.
---
cloudy definition by American Heritage Dictionary
adjective
cloud·i·er
,
cloud·i·est
Full of or covered with clouds; overcast.
Of or like a cloud or clouds.
Marked with indistinct masses or streaks: cloudy marble.
Not transparent, as certain liquids.

a. Open to more than one interpretation.

b. Not clearly perceived or perceptible.

Troubled; gloomy: His future at the company is cloudy.
Related Forms: