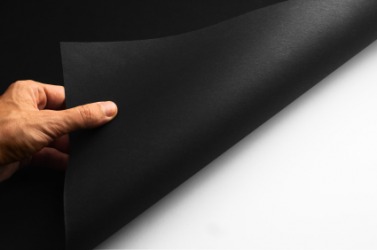 This black sheet of paper is opaque.
adjective
The definition of opaque is not capable of having light pass through or hard to understand.

An example of opaque is the quality of a black sheet of paper.
An example of opaque is the study of astrophysics.
---
opaque
not letting light pass through; not transparent or translucent
not reflecting light; not shining or lustrous; dull or dark
not allowing electricity, heat, etc. to pass through
hard to understand; obscure
slow in understanding; obtuse
Origin of opaque
Middle English
opake
from Classical Latin
opacus,
shady
anything opaque

Photog.

an opaque liquid used in blocking out parts of a negative
transitive verb
opaqued′

,

opaqu′ing
to make opaque

Photog.

to apply opaque to (a negative)
---
opaque
adjective
a. Impenetrable by light; neither transparent nor translucent.

b. Not reflecting light; having no luster: an opaque finish.

Impenetrable by a form of radiant energy other than visible light: a chemical solution opaque to x-rays.

a. So obscure as to be unintelligible: "opaque, elusive, minimal meanings" ( John Simon )

b. Mentally obtuse; dense.
noun
Something that is opaque, especially an opaque pigment used to darken parts of a photographic print or negative.
Origin of opaque
Middle English
opake
shady
and
French
opaque
opaque
(
from
Old French
shady
)
both from
Latin
opācus
Related Forms:
---
opaque

Adjective
(comparative more opaque, superlative most opaque)
Noun
(plural opaques)
Something which is opaque rather than translucent.
Verb
(third-person singular simple present opaques, present participle opaquing, simple past and past participle opaqued)
To make, render (more) opaque.
---