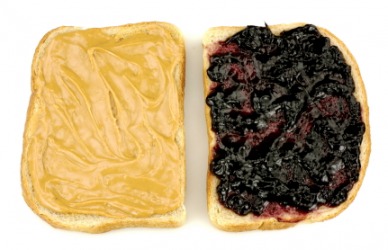 Jelly accompanies this peanunt butter.
verb
The definition of accompany means to go along with someone else or to go with something else.

1. An example of accompany is going to a party with a friend.2. Peanut butter, which goes with jelly, is also an example of accompany.
---
accompany
transitive verb
-·nied

,

-·ny·ing
to go or be together with; attend
to send (with); add to; supplement: to accompany words with acts
to play or sing a musical accompaniment for or to
Origin of accompany
Middle French
acompaignier
from
ac-
, ad- + Old French
compagnon
: see companion
to perform a musical accompaniment
---
accompany
verb
ac·com·pa·nied, ac·com·pa·ny·ing, ac·com·pa·nies
verb
transitive
To be or go with, especially as a companion.
To provide with an addition; supplement: a dish that is best accompanied with a robust wine.
To exist or occur at the same time as: dark clouds that were accompanied by rain.
Music To perform an accompaniment to.
verb
intransitive
Music To play an accompaniment.
Origin of accompany
Middle English
accompanien
from
Old French
acompagnier
a-
to
(
from
Latin
ad-
; see
ad-
. )
compaignon
companion
; see
companion
1
.
---
accompany

Verb
(third-person singular simple present accompanies, present participle accompanying, simple past and past participle accompanied)
To go with or attend as a companion or associate; to keep company with; to go along with.

Geoffrey accompanied the group on their pilgrimage.

To supplement with; add to.
​(intransitive, music) To perform an accompanying part or parts in a composition.
(music) To perform an accompanying part next to another instrument.

The strings were accompanied by two woodwinds.
Usage notes
(to go with): Persons are said to be accompanied by, and inanimate objects, state or condition is said to be accompanied with.
Origin
First attested in early 15th century.
From Middle English accompanien, from Old French acompagner ("to associate with"), from compaign ("companion"). See company.
---