noun
The definition of a stroll is a leisurely or slow walk.

An example of a stroll is what you take on a warm summer afternoon to enjoy nature.
verb
Stroll means to take a leisurely or slow walk.

An example of stroll is when you walk down the street slowly, enjoying the day.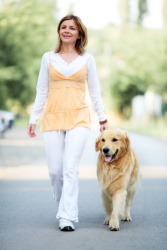 A woman takes her dog for a stroll.
---
stroll definition by Webster's New World
intransitive verb
to walk in an idle, leisurely manner; saunter
to go from place to place; wander
Origin: Early Modern English strowl, probably ; from Swiss German dialect, dialectal strolen, variant, variety of strolchen, to stroll ; from German strolch, vagabond, rascal, altered ; from Italian astrologo, astrologer
transitive verb
to stroll along or through (a street, the countryside, etc.)
noun
the act of strolling; leisurely walk
Webster's New World College Dictionary Copyright © 2010 by Wiley Publishing, Inc., Cleveland, Ohio. Used by arrangement with John Wiley & Sons, Inc.
---
stroll definition by American Heritage Dictionary
verb
strolled
,
stroll·ing
,
strolls
verb
, intransitive
To go for a leisurely walk: stroll in the park.
To travel from place to place seeking work or gain.
verb
, transitive
To walk along or through at a leisurely pace: stroll the beach.
noun
A leisurely walk.
Origin: Probably German dialectal strollen, variant of strolchen, from Strolch, fortuneteller, vagabond, perhaps from Italian dialectal strolegh, from Italian astròlogo, astrologer, fortuneteller, from Latin astrologus, astronomer, astrologer, from Greek astrologos; see astrology.