roam

roam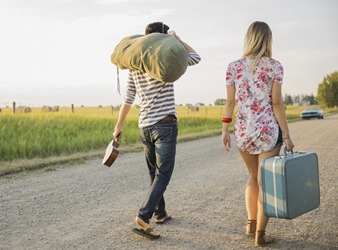 Joel and Madison are free spirits who roam the back roads of rural America with nothing but the basic necessities.
verb
Roam is defined as to wander.

An example of roam is aimlessly walking through the forest.
An example of roam is window shopping while waiting for a friend.
---
roam
to travel from place to place, esp. with no special plan or purpose; go aimlessly; wander
Origin of roam
Middle English
romen
from or akin to Old English
aræman,
to rise from Indo-European an unverified form
erei-
from base an unverified form
er-,
to set in motion from source rise, run
to wander over or through: to roam the streets
the act of roaming; ramble
---
roam
verb
roamed, roam·ing, roams
verb
intransitive
To move about without purpose or plan; wander. See Synonyms at wander.
To turn the attention from one subject to another with little clarity or coherence of thought: I could hear the speaker, but my thoughts were roaming.

a. To move or pass over the body: His hands roamed over her body.

b. To be directed without apparent purpose; look in an idle or casual manner: Her eyes roamed around the room.

To use a cell phone network outside of a home service area as defined by a service plan.
verb
transitive
To wander over or through: roamed the streets.
To be directed over or around (an area): Her gaze roamed the beach.
noun
The act or an instance of roaming.
Origin of roam
Middle English
romen
Related Forms:
---
roam

Verb
(third-person singular simple present roams, present participle roaming, simple past and past participle roamed)
(intransitive) To wander or travel freely and with no specific destination.
(intransitive, computing, telecommunications) To use a network or service from different locations or devices.
To range or wander over.

Gangs of thugs roamed the streets.
Origin
From Middle English romen, from Old English *rāmian, from Proto-Germanic *raimōnan ("to wander"), from *raim- ("to move, raise"), from Proto-Indo-European *rÄ«-, *reyw-, *(o)reyǝ- ("to move, lift, flow"). Akin to Old English ārÇ£man "to arise, stand up, lift up", Old High German rāmÄ"n ("to aim") (> archaic German rahmen ("to strive")), Middle Dutch rammen "to night-wander, copulate", rammelen "to wander about, ramble". More at ramble
---