stray

stray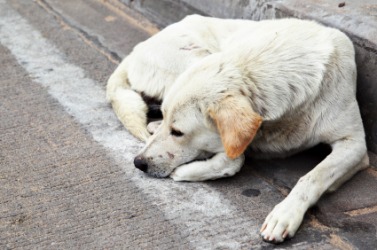 A poor stray dog.
adjective
The definition of stray is someone or something that has been separated from where it should be or that is loose and all-by-itself.

A dog that has no home is an example of a dog that would be described as a stray dog.
A button that you just find on the floor and that doesn't appear to belong anywhere is an example of a stray button.
verb
To stray is to deviate off course or to wander away from where you should be.

When you wander off course, this is an example of a time when you stray.
---
stray
to wander from a given place, limited area, direct course, etc., esp. aimlessly; roam; rove
to go wrong; be in error; deviate (from what is right)
to fail to concentrate; be inattentive or digress
Origin of stray
Middle English
straien
from Old French
estraier
from
estrée,
road, street from Late Latin
strata,
street
a person or thing that strays; esp., a domestic animal wandering at large
[usually pl.] static interfering with radio reception
having strayed or wandered; lost
occurring alone or infrequently; isolated; incidental: a few stray words
---
stray
intransitive verb
strayed, stray·ing, strays
a. To move away from a group, deviate from a course, or escape from established limits: strayed away from the tour group to look at some sculptures.

b.

To move without a destination or purpose; wander:

cows that strayed across the road toward the river.

See Synonyms at

wander

.

To be directed without apparent purpose; look in an idle or casual manner: The driver's eyes strayed from the road toward the fields.
To follow a winding or erratic course: "White mists began to rise … on the surface of the river and stray about the roots of the trees upon its borders" ( J.R.R. Tolkien )
To act contrary to moral or proper behavior, especially in being sexually unfaithful: "He strayed from his marriage and fathered a son with a village woman" ( Adam Hochschild )
To become diverted, as from a subject or train of thought: strayed from our original purpose. See Synonyms at swerve.
noun
One that has strayed, especially a domestic animal wandering about.
adjective
Straying or having strayed; wandering or lost: stray cats and dogs.
Scattered or separate: a few stray crumbs.
Origin of stray
Middle English
straien
from
Old French
estraier
from
estree
highway
from
Latin
strāta
; see
street
.
Related Forms:
---
stray

---