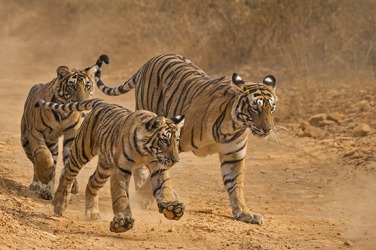 The tigers prowl for their next meal.
noun
The definition of a prowl is an act of sneaking or wandering about and looking for something.

An example of a prowl is a pack of tigers in search of food.
verb
Prowl is defined as to sneak about or search for prey.

An example of to prowl is for a lion to creep around looking for food.
---
prowl
to roam about furtively, as in search of prey or loot
Origin of prowl
Middle English
prollen
from uncertain or unknown; perhaps
---
prowl
verb
prowled, prowl·ing, prowls
verb
transitive
To roam through stealthily, as in search of prey or plunder: prowled the alleys of the city after dark.
verb
intransitive
To rove furtively or with predatory intent: cats prowling through the neighborhood.
noun
The act or an instance of prowling.
Origin of prowl
Middle English
prollen
to move about
Related Forms:
---
prowl

Verb
(third-person singular simple present prowls, present participle prowling, simple past and past participle prowled)
To rove over, through, or about in a stealthy manner; especially, to search in, as for prey or booty.

Watch the lioness prowling in the shrubbery for zebras.
It's tough to sneak vandalism into Wikipedia as there are plenty of other users prowling the Recent Changes page.

2011 January 5, Mark Ashenden, "Wolverhampton 1 - 0 Chelsea", BBC:

While McCarthy prowled the touchline barking orders, his opposite number watched on motionless and expressionless and, with 25 minutes to go, decided to throw on Nicolas Anelka for Kalou.

To idle; to go about aimlessly.

That dandy has nothing better to do than prowl around town all day in his pinstripe suit.
Noun
(plural prowls)
(colloquial) The act of prowling.

I'm going on a midnight prowl.
Origin
From Middle English prollen, of unknown origin.
---